Ad Safety Boils Over in the UK. Will Brands Be Next to Act?
By Cliff Annicelli, eMarketer.
Simmering dissatisfaction with the ability of major ad platforms to prevent advertising from appearing alongside controversial content has reached a boil in the UK. In the past week The Guardian became the latest domestic news organisation to pull advertising from the likes of Google and YouTube over the issue, and the UK's government has begun doing the same. Will consumer brands be next?
The issue of brand safety became front page news in the UK last month when an investigation by The Times of London highlighted the extent to which digital advertisers from the UK were "unwittingly funding extremists," thanks to ads appearing alongside controversial content—possibly as an unintended consequence of programmatic ad serving methods.
So far, news-related brands have been the most active—or at least the most vocal—when it comes to making digital ad platforms feel the depths of their displeasure by way of pared back investment. Brands from other sectors have been largely quiet on the subject, but recent studies have shown the issue of brand safety hasn't been especially pressing among UK digital advertisers collectively.
As recently as December 2016, a survey of 120 UK digital advertising professionals by Integral Ad Science found 24% of respondents considered brand safety the most important aspect of media quality—a notable number, but behind viewability and ad fraud.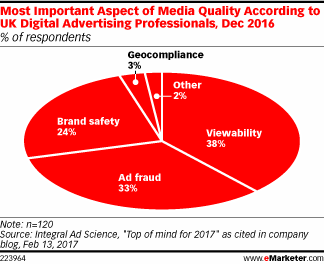 That response rate was considerably greater than the 3.9% of UK digital video ad buyers surveyed in September 2016 by Collective that said brand safety was their biggest barrier to spending more on digital video ads.
Read the full article on eMarketer here.