Australians tend to look at mobile web display ads for longer than their global counterparts, according to analysis by Integral Ad Science.
The Media Quality Report for the first half of 2019 shows that the average time-in-view for mobile web display ads was highest in Australia at 18.47 seconds, with US in second place at 16.19 seconds.
Australia was third for desktop display ads at 25.18 seconds, Italy next at 28.66 seconds and Spain 26.22 seconds.
Globally, time-in-view averaged 23.53 seconds for ads on desktop computers, the highest of any format.
Desktop display ads remain the biggest drivers of attention worldwide when compared to other display formats, with mobile web ads showing for 15.58 seconds on an average and mobile app for 20.18 seconds.
The global country comparisons: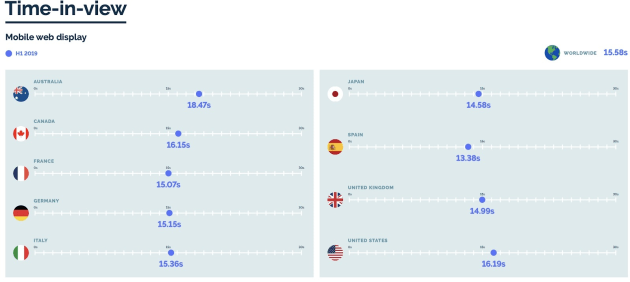 Australia saw higher increases of ad fraud when compared to the same time last year, with desktop display ads reporting a 66.6% rise, desktop video rose 43%, and mobile web display 20%.
"European Union privacy laws have reduced the effectiveness of cookies and illegal bot operators are finding it increasingly difficult to retarget in Europe, shifting their focus to other lucrative markets with scale, such as Australia and the US," says James Diamond, managing director ANZ, at Integral Ad Science.
"As we head into Q4, advertisers must stay vigilant as fraudsters typically chase increased ad spend during the lucrative holiday shopping period."
Australia's brand risk numbers were one of the lowest globally thanks to the increased awareness among Australian brands and the granular-level reporting they use to protect their brands online.
For desktop display, Australia reduced brand risk by 63% to 2.5% from 6.8% last year. 
In mobile web display, Australia saw brand risk reduced by 60% to 3% from 7.4% with Italy just taking the lead at 2.8%.
The article was published in AdNews.